Hudson River Fitness is here to empower you to look and feel your best. Whether it be to lose weight, improve your health, build muscle, or you are just sick and tired of being sick and tired, you aren't alone in this journey.
Book your free No Sweat Intro today to see how we can help you. During this 15-20 minute meeting you and a coach will discuss your goals, challenges, and come up with an actionable plan to help you succeed!
Fat Loss
Clothes don't fit anymore? Issues with feeling confident in your skin? Not feeling your best you? Our fat loss program will help you with your goals of losing that stubborn weight so that you are confident about how you look and feel!
Improve Health
Burned out? Need a change in routine? Did you let your health go after taking some time off from the gym? Are you sick and tired of being sick and tired? Our health improvement program will provide a time efficient way to help you make positive changes to your lifestyle. Get ready to not just look your best, but feel your best!
Muscle Gain
Are you feeling weak? Are you struggling with your day to day activities such as carrying groceries or picking up after your kid? Struggling with repetitive injuries? Our strength program will help you build muscle while also building the necessary strength for life!
Youth Fitness
Give your child an edge with our speed, agility & strength training programs. We help young adults build strength, confidence, and a positive self image. Our training program has been designed from the ground up to take you to the next level, whether you're just going into middle school, high school or about to play in college. From day one, you will be given a customized training plan to prepare you for success.
Fat Loss
Feel Good In Your Skin
Top 5 Tips to Lose Fat
Eat meat, nuts, seeds, veggies, some starch and limit sugar.

Lift weights of moderate intensity at 2-3x per week.

Do conditioning workouts 1-3x per week.

Limit alcohol intake to 1-2 drinks per week.

Sleep more than 7 hours per night.
Build Muscle
Feel Strong and Look Strong
Top 5 Tips to Building Muscle
Eat more high quality foods like meat, veggies, nuts, seeds, moderate starch, and little sugar

Lift weights at high intensity 3-4x per week

Do conditioning workouts at high intensity 1-3x per week

Limit alcohol intake to 1-2 drinks per week

Sleep more than 7 hours per night
Live a better life
More Energy
More Strength
Less Pain
Top 5 Tips for Improving Your Health
Eat meat, veggies, nuts, seeds, some starch and little sugar, but also enjoy the food you eat!

Lift weights at a moderate intensity 2-3x per week.

Do conditioning work 1-3x per week at moderate intensity.

Limit alcohol to less than 4 drinks per week.

Sleep more than 7 hours per night.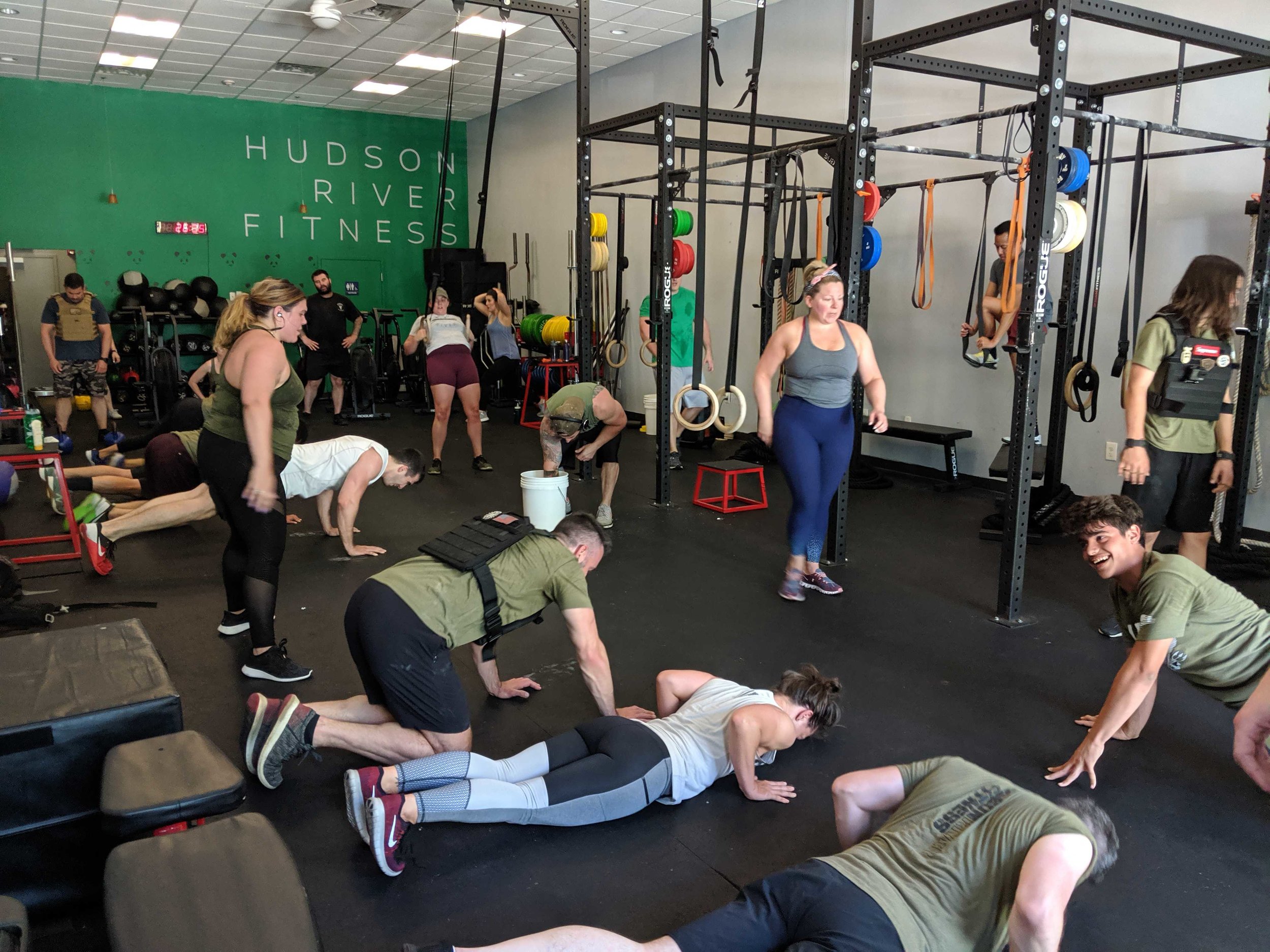 We offer classes for every level, and each class is capped at 12 people.
Strength Class
We all need strength. To increase your physical capacity, you need to build a solid foundation of strength. Our Strength classes focus on perfecting your technique and your capacity in the essential strength movements. Whether you are brand-new to lifting or an experience barbell athlete, this class we help you reach your next level.
Conditioning Class
Better cardiovascular endurance, more speed, and a huge improvement in your general physical preparedness. These are just a few of the benefits from joining our Conditioning classes. These high intensity interval training classes combine bodyweight movements with weight training to get you ready for whatever life throws at you.
High Accountability Bespoke Programs
What defines a great coach?
Habits for life
The team at Hudson River Fitness are trained to provide you with the tools for success. Rather than shouting in your face to 'lift heavier' or 'go faster', our coaches meet you at your level and will help you every step of the way throughout your fitness/wellness journey. Our coaches are here to support you and will make the necessary changes to your training program according to how you are feeling that day.
We've helped hundreds of clients achieve their goals. Our coaches are constantly learning new ways to help make positive changes on our clients' lives. We host weekly development meetings addressing exercise technique, lifestyle and nutrition which aim to expand our team's skillset.
Why Private Training?
The answer to that is also dependent on your preferences! Whether you are an experienced athlete who has specific goals or someone who is completely new to fitness, private training can help you!
Less injuries by ensuring that you complete every rep correctly
Faster results by working on a program built specifically to your goals

Highest level of accountability by having a coach check on on regularly checking your progress

Build specific skill sets: Want to get your first pull-up, pushup, conquer your first marathon, compete in a weightlifting meet? Private coaching sessions are a great way to focus on and strengthen specific skill sets that are vital to progress.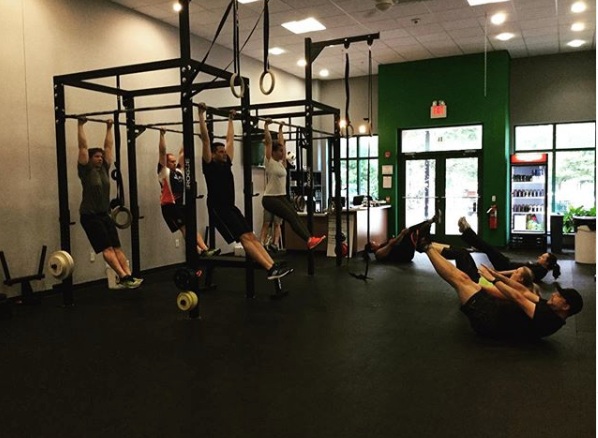 What you'll get:
Goal setting sessions: Look good, feel good, feel healthier…all of the above. Whatever your reasons for being here, we will help you identify them and reach them.
Nutrition coaching: What you eat has a lot to do with your success. Your coach will help you identify the right nutritional path. Check out our nutrition program here.
Flexible schedule: Pick your coach and pick your time. Private coaching can be scheduled anytime that fits your schedule. Your group class participation will also be discussed with your coach and schedule can be found here.
Specialized programming: If you are training for a specific event your coach will tailor your program to meet the needs and demands you will see in your event or sport. This will help you gain a valuable edge over your competition. This is most often addressed in the private training setting, but modifications can be made in a group if you'd like. Whatever you prefer!
Health Investment Structure
Nutrition Coaching
3 x $269 for 12 Week Gold
3 x $229 for 12 Week Silver
3 x $179 for 12 Week Bronze
$349 for 6 Week Kickstart
Private Training
$110 for 45 minute session
24x/month = $2508
20x/month = $2200
16x/month= $1760
12x/month= $1320
8x/month= $880
4x/month= $440
Group Fitness
$330 fo Kickstart Program (3 x Private Sessions), to be completed before class
$199 per month for 8 workouts per month
$229 per month for 12 workouts per month
$269 per month for unlimited workouts per month
Meet the Hudson River Fitness Team
Our fitness and wellness team consists of the brightest in the industry.
From various certifications to Doctorate level education, our team is here to help you accomplish your health and fitness goals!
Nadine Donnelly
Derry Girl… Lifter… Inspiration
Amber Trejo
Grit… Grace… Consistency
Kaitie English
Owner… Mother of Dragons… UMASS Alum
Ashley Mak
Villanova Graduate... Doctor... Athlete...
Katie Janeczko
Grappler... Scholar... Champion...